Main features:
1,octagonal boom, carrying capacity, deformation is small, anti-bending ability, cross-section aspect ratio is small, lifting capacity
Super strong, the main arm length 10.4m ~ 39.5m, in the long arm, full extension arm superior performance.
2, insert the arm, effectively improve the lap length, boom deformation is small; embedded slider, support area, reduce the contact stress of the cylinder.
3, eight gears, superior driving performance, climbing ability, climbing 40%, the maximum speed of 80km / h.
4, open quantitative pump variable motor system, lifting with dual pump confluence, to meet the requirements of user speed, effectively reduce energy consumption and system heat; independent research and development of the load-sensitive system, smooth operation, energy efficient; unique structure of the swing buffer Technology to achieve no jitters; the use of gravity reduction, effective energy saving, balancing valve using overload compensation technology to ensure a smooth decline in speed; large torque starting point of the new hydraulic variable motor to ensure that the second rise does not decline, effectively improve operating efficiency.
5, the national patent of the arm telescopic system, effectively avoid the misuse caused by the cylinder bending, boom broken, to improve the active safety of telescopic system.
6, dual mode mode engine, normal driving, the use of larger power to ensure that the vehicle's driving performance;
Work with a smaller power, as much as possible to reduce fuel consumption.
Main specifications:
Dimension

Unit

QY25K5-I

Overall length

mm

12300

Overall width

mm

2500

Overall height

mm

3350

Weight

Total weight in travel

kg

31750

Front axle load

kg

6550

Rear axle load

kg

25200

Power of engine

Engine model

 

SC8DK280Q3

Engine rated power

kW/(r/min)

206/2200

Engine rated torque

N.m/(r/min)

1112/1400

Specifications in Travel

Max. travel speed

km/h

80

Min. turning diameter

m

22

Min. ground clearance

mm

260

Approach angle

°

16

Departure angle

°

13

Max. grade ability

%

40

Fuel consumption for 100km

L

≈37

Main performance

Max. rated total lifting capacity

t

25

Min. rated working radius

mm

3000

Turning radius at turntable tail

m

3.065

Max. lifting torque

kN.m

961

Base boom

m

10.4

Fully extended boom

m

39.5

Fully extended boom+jib

m

47.8

Longitudinal outrigger span

m

5.14

Lateral outrigger span

m

6

Working speed

Boom luffing time

s

68

Boom full extension time

s

150

Max. swing speed

r/min

2.5

Max. speed of main winch (single rope) (no load)

m/min

125

Max. speed of aux. winch (single rope) (no load)

m/min

125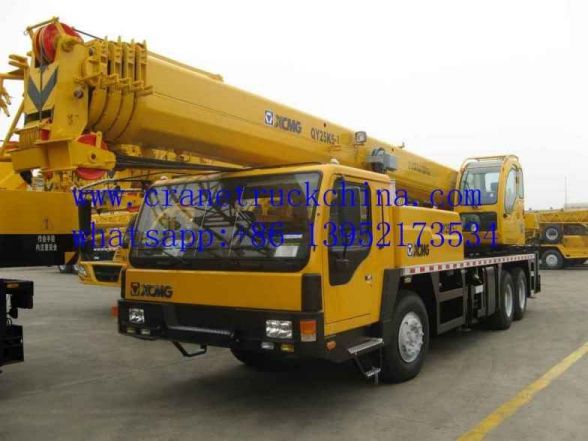 Welcome to contact us to get more information of parameter and pictures.
We will quote you with our best prices, waiti