Main features:
1. Equipped with 5 sections of 42mU main boom, the leading performance of similar products 20%, any telescopic, boom performance higher;
2. Innovative veneer boom and compact boom-tail structure, lap than the industry's largest, stronger boom bearing capacity;
3. Quantitative valve valve control hydraulic system, micro-movement is good, the minimum speed of rotation to reach 0.5 ° / s, lifting the lowest stable speed of 2.5m / min, accurate lifting;
4. Double pump split flow control technology, operating efficiency;
5. Hydraulic motor independent cooling technology, hydraulic system thermal equilibrium temperature below 80 ℃, high temperature environment, continuous operation without downtime, safe and reliable;
6. XCMG new generation of low-speed high-torque power transmission system, strong power, low fuel consumption, the maximum speed of 90km / h, the maximum climbing capacity of 45%, off-road capability;
7. Rubber suspension, shock absorption effect is good, good guide;
8. Integrated bus panel, equipped with 7-inch color display, functional area clear, convenient and quick;
9. Intelligent conditions of automatic planning technology, users simply enter the key hoisting information, the system automatically recommend the best conditions;
10. Electrical system reliability is higher, waterproof wiring harness layout is reasonable, easy maintenance, long life;
11. Stretch flexible shaft control more convenient, new night lighting, night work more secure;
12. The cab is equipped with three-dimensional air supply is air conditioning;
13. New modeling cab, V-type front face, headlamps use "Hawk eye" bionic technology;
Main specifications:
Technical specifications of travel state

category

Item

Unit

Data

Weight

Total weight

kg

33000

Power

Engine Model

\

SC9DF290.1Q4 / SC9DF290.2Q4

Engine output

kw/(r/min)

213/1900 | 213/1900

Travel

Max. speed

km/h

90

Min. turning diameter

m

21

Min. ground clearance

mm

260

Max. gradeability

%

45
Technical specifications of crane operation

category

Item

Unit

Data

Lift

Max. lift capacity

t

25

Max. lifting moment

kN.m

1132

Boom length

Base boom

m

10.8

longest main boom

m

42

Boom+Jib

m

51

Jib install angle

°

0/15/30

Speed

Main boom luffing time

 

s

35

Main boom extend time

 

s

95

Slewing speed

r/min

0-2.5

lift speed

Main winch no load

m/min

135

Vice winch no load

m/min

135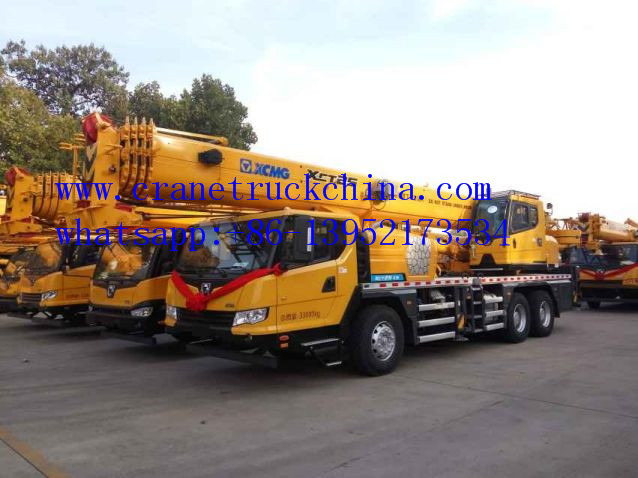 Welcome to contact us to get more information of parameter and pictures.
We will quote you with our best prices, waiting for your inquiry!