Main features:
1. Optimized overall machine arrangement, beautiful and coordinated, adoption of integrated decking plate and all-round skirt, and more smooth in vision.
2. First introduce the concept of 30-tonnage crane with five boom sections, and the lifting height of booms and jib   is higher than that of domestic similar product.
3. World advanced and newly designed boom, streamlined boom head and built-in slider efficiently increase boom section joint length and reduce boom lower deflection and side bending.
4. Swing system with free-sliding function realizes boom automatic swing to center of gravity over load, and eccentric swing gear with small coupling clearance ensures little impact and more steady and smooth operation.
5. Hydraulic system with many patented technologies and many innovated technologies features energy saving, high efficiency and strong power.
6. Well-equipped safety protection devices such as automatic load moment limiter, hoist limit switch, wire rope over release cutout, safety control valve, hydraulic protection valve and anti-air cavity and anti-blocking device, etc., and all these make more safe operation.
7. Strong power engine system of energy saving and environmental protection provide powerful drive for crane carrier and improve overall travel performance. Transmission system matches better than domestic similar product.
8. Newly designed cab is spacious and luxury, and comfortable and shock-absorption seat, innovated air-conditioner, etc., make operation easy and relaxed.
Main specifications:
Dimension

Unit

QY30K5-I

Overall length

mm

12570

Overall width

mm

2500

Overall height

mm

3390

Weight

Total weight in travel

kg

32400

Front axle load

kg

7000

Rear axle load

kg

25400

Power of engine

Engine model

 

SC8DK280Q3

Engine rated power

kW/(r/min)

206/2200

Engine rated torque

N.m/(r/min)

1112/1400

Specifications in Travel

Max. travel speed

km/h

80

Min. turning diameter

m

22

Min. ground clearance

mm

291

Approach angle

°

19

Departure angle

°

13

Max. grade ability

%

40

Fuel consumption for 100km

L

40

Main performance

Max. rated total lifting capacity

t

30

Min. rated working radius

mm

3000

Turning radius at turntable tail

m

3.065

Max. lifting torque

kN.m

1025

Base boom

m

10.6

Fully extended boom

m

40.4

Fully extended boom+ jib

m

48.7

Longitudinal outrigger span

m

5.85

Lateral outrigger span

m

6

Working speed

Boom luffing time

s

68

Boom full extension time

s

150

Max. swing speed

r/min

2.5

Max. speed of main winch (single rope) (no load)

m/min

120

Max. speed of aux. winch (single rope) (no load)

m/min

120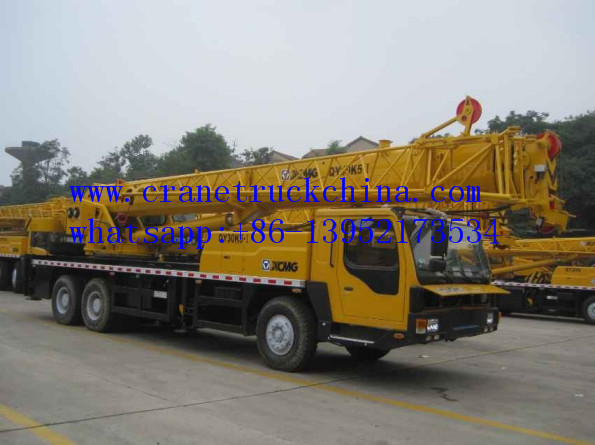 Welcome to contact us to get more information of parameter and pictures.
We will quote you with our best prices, waiting for your inquiry.